Last week, my sisters-in-law and I got together to throw a fabulous baby shower for Jessica and her baby boy, who will be here in december. They hadn't picked out a name, (and still haven't as far as I know), and they didn't have anything really picked out for the nursery, so we went with an easy lil' pumpkin theme, since it was october, and pumpkins are easily found. Not to mention, Jamie has a plethora of fall decor, so this made decorating for the party a piece of cake!
So there wasn't much to it, no games, just some really great food, some awesome people and lots of baby boy gifts, gotta love it. Sorry, but there are a ton of photos ahead. Enjoy the party, we sure did!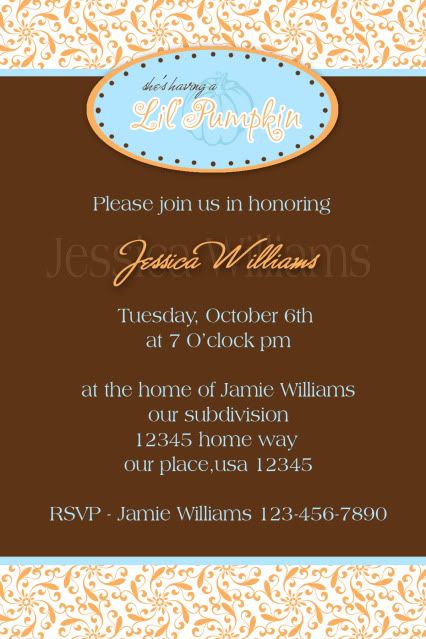 Jenina, my sister-in-law, is a great cook, and she had some seriously fabulous food for this party. There were pumpkin pie tarts, pumpkin cinnamon rolls, and the most delicious fall salad ever!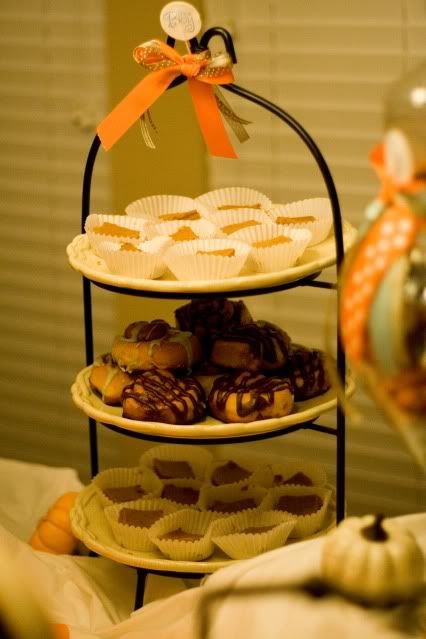 Some of her yummy cinnamon rolls. The ones I brought home were gone quick, Kevin loves those things, and I NEVER make them!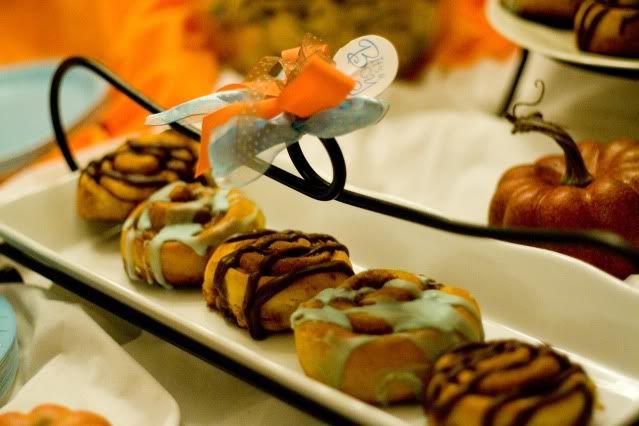 Jamie has a friend that made this awesome cake! It was delish, and looked absolutley amazing.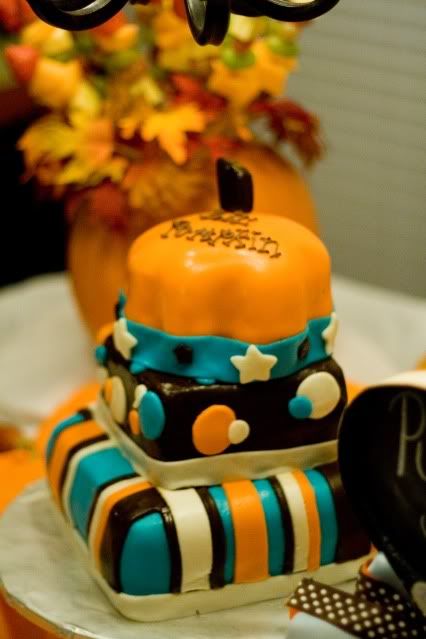 Jamie made this cute cheese ball, funny thing is Jamie hates them and wouldn't even try it.:)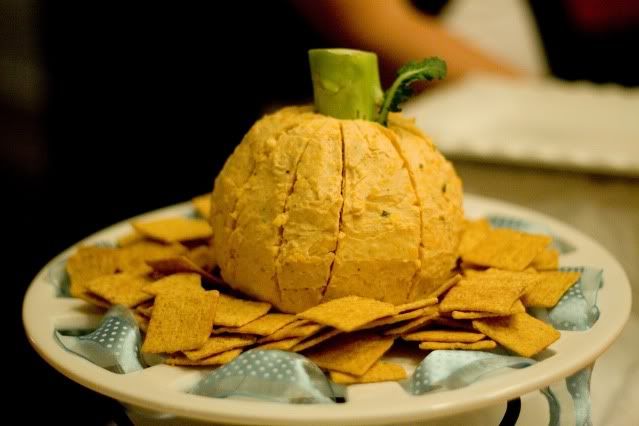 My mother-in-law went all out and made this awesome fruit display. Fruit on skewers, stuck in a pumpkin. It looked great, and I'm sure took her awhile to do it too.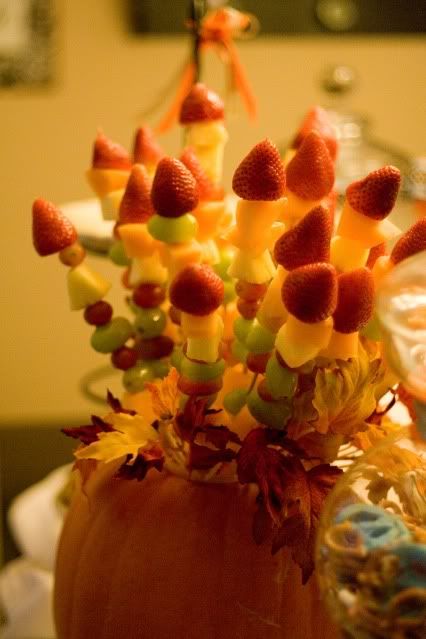 This is what I make, chocolate covered pretzels, Kevin was very happy when I brought a bunch of them home.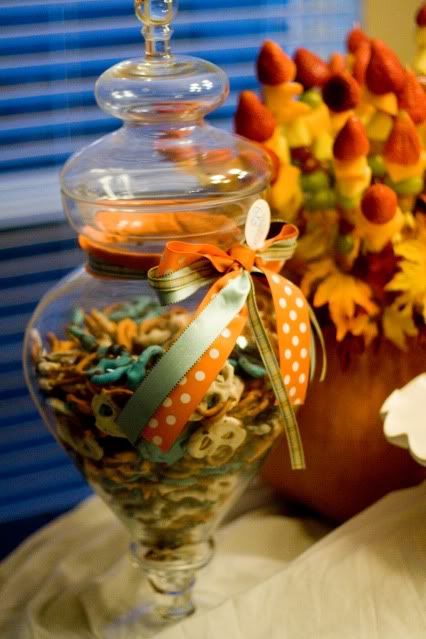 Some of the cute decor we had for the party. Jamie put bows on everything, so cute!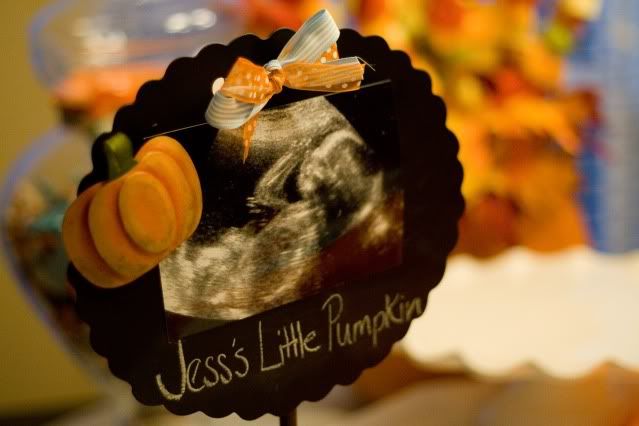 Every guest of honor needs their very own pumpkin patch, don't they? Alot of my time preparing for the shower, was spent painting pumpkins, glittering pumpkins, and putting ribbon on them.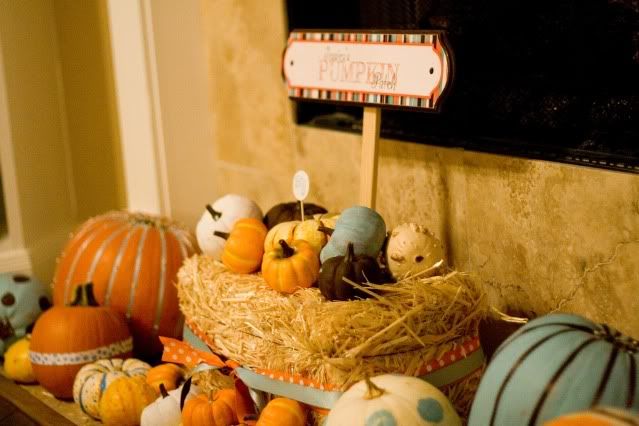 The party favors were these seed bags filled with seasoned pumpkin seeds. The tag said, "grow your own pumpkin baby", love it!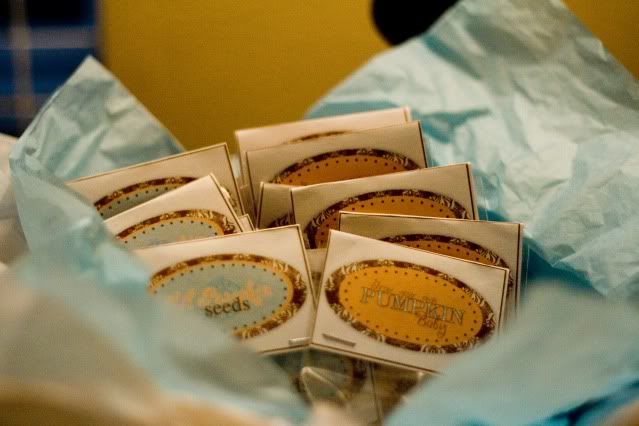 Some of the fun glitter pumpkins. They were so easy to do, and I love how they turned out!
Even the silverware was festive! Or would that be plasticware?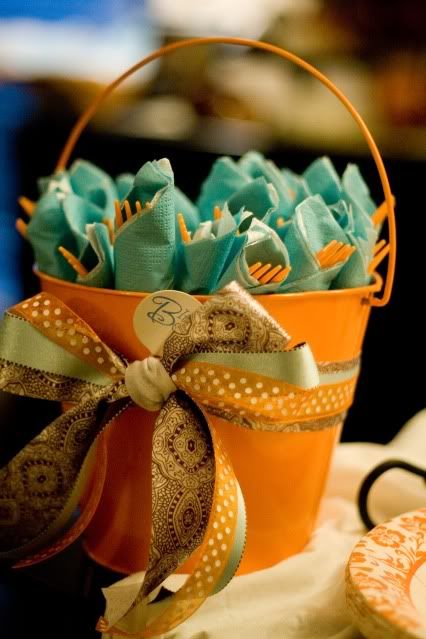 The fireplace mantel. Jamie hand drew "it's a boy" on the pumpkins, while holding her 4 month old son in the baby carrier. She's talented!
Some more fun displays by the drinks, and a photo of Jess's belly, with her "pumpkin baby!"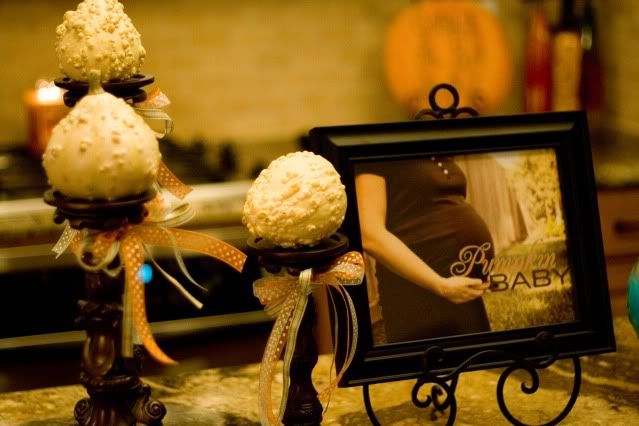 The guest of honor opening gifts, sorry for the grainy photo, but she looks beautiful anyway!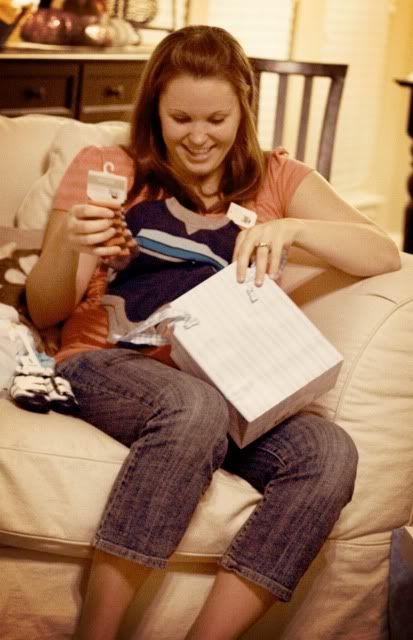 Congrats Jess, we can't wait to meet the little guy!