This past weekend, the Williams sister-in-laws all got together to throw our other sister-in-law, Jamie, a baby shower. Actually, it was a co-ed shower, so it was for her and her hubby. Since their having their first boy, we did a basketball theme, and if I do say so myself, I thought it all went quite well.
There were yummy cupcakes, salads, hoagies, fruit, nuggets, and even wings. We had boys there, so we wanted to be prepared with the food. Everything was blue and orange, the blue was in honor of Greg's favorite college team, Duke. We also played a couple of fun games, a diaper toss, and a free throw contest. Luckily, Kevin's parents have a half court basketball court right in their yard, it was the perfect setting.
I think Jamie enjoyed it, and we tried to throw in some fun girlie stuff for her, but I suppose she had better get used to having some of the boy stuff around, right? It was tons of fun to put together, what can I say, I'm a sucker for parties!
Some of the food, and the picture I made for McKay's room. If you can't tell, that's a picture of Jamie's belly, "painted" to look like a basketball.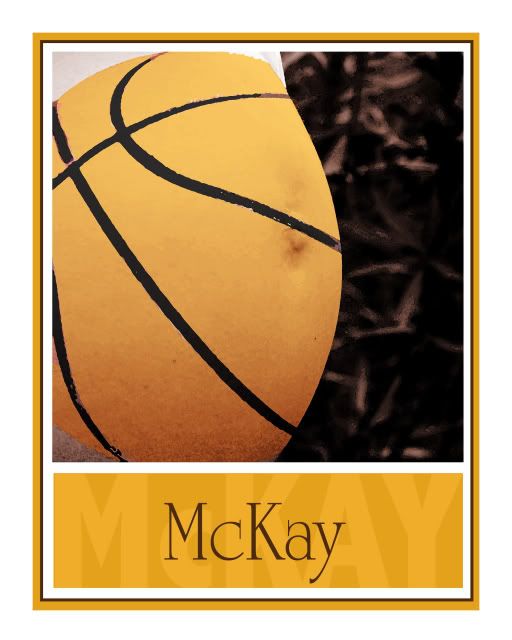 Here's a close up of the photo, what do ya think? Does the paint look real? I had to work on photoshop for a bit to make it look alright, kinda fun what you can do with a little editing!
Look at these two! Britt and Brett, so excited for their very own tickets to the shower! :) I made tickets that we handed out to everyone, and then we did a drawing. If we drew your number, you got a chance to make a freethrow, and if you did, you won a prize. Now if I had really been on top of it, I would have sent the tickets to them with the invite.
The fun basketball centerpieces for the tables.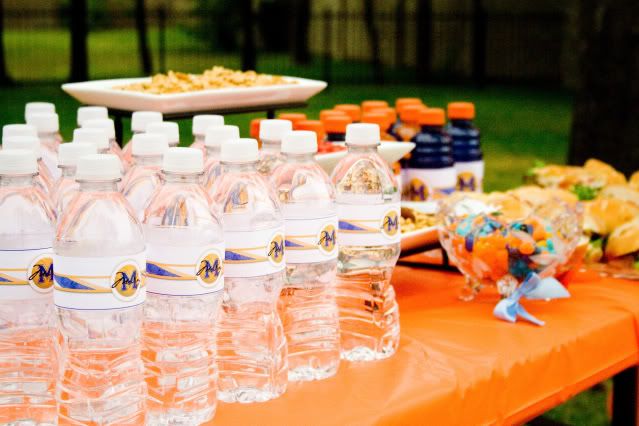 Some of the drinks, we removed all the labels and added a customized "McKay" label. We had water and orange and blue gatorade, yum yum!

A close up of the tickets
We had tons of fun doing this, and now we just can't wait to meet the little guy!